Our June box was THAT GIRL!
The streets were talking, our inboxes were FULL with requests for more boxes - ultimately the girls who GET IT, GOT IT!
Let's unbox and explore the goodies:
Step 1: 🌿 Shampoo - PATTERN's Cleansing Shampoo is your go-to for a deep clean. Start by applying it to your natural hair, massaging your scalp to remove any build-up or residue. The antioxidant-rich formula with Matcha Green Tea, Aloe Vera & Panthenol will promote strong hair and maintain moisture. Ideal for curly hair types (type 3 & 4) looking to prevent dryness and promote healthy hair care.
*if you were lucky enough to receive (and still have some left) of INTENSIVE PATTERN conditioner from our first box - now would be the perfect time to put it to werk!
Step 2: 💦 Leave-in conditioner - After shampooing, reach for PATTERN's Leave-In Conditioner. Apply it generously to your curls, sealing in moisture and preventing frizz. The lightweight formula is perfect for detangling and providing soft curl pattern definition. Whether you have tight textured hair, locs, curly, or coily hair, this is the ideal styling product for your hair type.
Step 3: 🧴 Styling cream - PATTERN's Styling Cream is pure magic for curly hair! Take a small amount and work it through your damp hair, setting your desired style, such as twist outs, braid outs, bantu knots, or wash-&-gos. The Shea Butter, Cacay Oil, Coconut Oil & Sweet Almond Oil in the formula provide nourishment and promote hair retention.
🌬️ Step 4: Hydrating mist - Keep your curls refreshed and hydrated between wash days with PATTERN's Hydrating Mist. The milky formula, infused with Aloe Vera, Coconut Oil & Avocado Oil, provides essential nutrients and moisture to quench thirsty curls and protect them from environmental stressors.
👉 Step 5: Detangling brush - Add the PATTERN Shower Brush to your washday routine for a game-changing experience. Start at the ends and gently work conditioner through your hair, ensuring every strand is pampered and nourished to perfection. Your locks will thank you!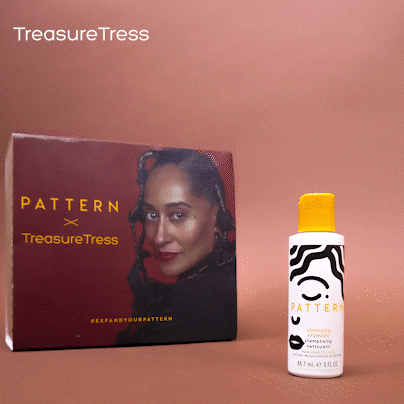 Thank us later for completely elevating your washday sis 🤪